Beaches
Beaches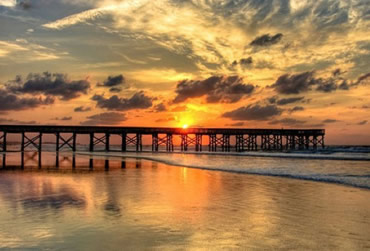 A top resort, world-class golf, & miles of oceanfront fun.
The Isle of Palms makes its home among naturally beautiful neighbors, like the Intracoastal Waterway, Atlantic Ocean, Breach Inlet, and Sullivan's Island. Its strong community, seemingly endless beaches, resort, championship golf, tennis, park, marina, and local restaurants and shops provide non-stop enjoyment and entertainment – and always, the opportunity to truly relax and rejuvenate, all just 12 miles from downtown Charleston.
Family-Couple-Single-Senior-Friendly.
The Isle of Palms' nearly 2,880 acres includes a thriving local business district surrounded by residences, miles of beach, and a community where you'll find beachfront live music at the Windjammer, bathing-suit clad kids eating ice cream, beach volleyball, and families kicking back to enjoy it all.